There are several things to get done while your waiting for your guests to RSVP, and the big day to arrive. I recommend lining up the music and the photographer first primarily because good ones are hard to find. Generally speaking, most couples will book these things first as well, so the longer you wait the more difficult it will be to get the people you want.
Ta-da-daaa-ta-daaaaaa
Remember that whoever you choose to host your wedding will be playing throughout the wedding! So make sure that they are versatile enough to fit all your needs throughout the day. From nofreetime.com, here are some types of wedding music.
String quartets
are the most common choice of live background music at weddings as they provide the perfect accompaniment to the ceremony and wedding reception. They are also very versatile. Alternatively you could opt for a string duo or trio.
Harps
are magical sounding instruments that will enchant your guests and enhance your fairytale day. The harp is a popular choice as it allows guests to talk without being disturbed or pre-occupied by the music. A good harpist should be able to play a mix of classical and modern tunes depending on your choice. Alternatively why not have a harp & flute duo.
Flutes
are a perfect choice if you want beautiful music that will mesmerize your guests. Both magical and enchanting, they also sound great when accompanied by a harp or guitar. An
Organist
is a good choice if you're having a church ceremony and the church has an organ. If you want a Pianist and your venue doesn't have one, don't let this put you off - many pianists will use a portable digital piano.
Classical guitarists
can enhance the romance of the day as they play a range of easy listening music -classical, Spanish, modern arrangements or a mix.
Saxophones
(solo or duo with a singer or a jazz quartet) are the ultimate in sophistication if you're looking for that touch of class.
Steel bands
are a perfect choice if you're looking for something a bit different from the traditional forms of entertainment and want to add a fun & lively atmosphere for your drinks reception. They also don't require a PA system for most events.
Discos
are the still the most popular choice of evening entertainment at weddings. They tend to be the cheapest option and provide the greatest flexibility. DJs can play a mix of dance, pop, music from the decades as well as the cheesy wedding classics - something to suit everyone.
Live bands
are the ultimate in wedding entertainment. The right band will interact with your guests and get the party started and keep it going all night. There are so many types of live band to choose from including: Tribute, Pop/Rock, Jazz, Blues, Swing, 70's Funk and Salsa. Here's something I got from wedding.theknot.com; covers from traditional first dance songs for those of you who want to use Franky without your wedding becoming too cheesy! Here are my faves from their list : Tony Bennett & Diana Krall, The Best Is Yet To Come  (Frank Sinatra) Joss Stone "L-O-V-E"
Adele - 'Make You Feel My Love'
The Sundays - Wild Horses (the Rolling Stones)
Rufus Wainwright - Across The Universe
Smile!
There are 2 types of photographers out there, the traditional posed photo photographers and photojournalist. Photojournalist use a more sporadic approach, where they tail you and try to capture intimate moments; during the preparation, during the ceremony and everything behind the scenes. The choice is completely up to you, whether you want something that represents the moment or something picture perfect! Image from Claydaze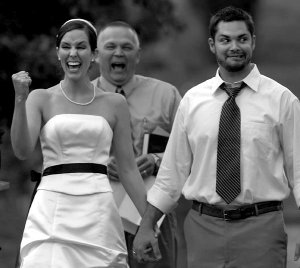 More:
A.nd let there be music... and lots of photos
B.eautiful Food for everyone
C.ake or Dessert Table- quite a dilemma
D.ress ("THE" Dress) - Very exiting
E.nchanting Flowers to set the mood
F.ormal Invitations for all your guests
Back to
Chapter 2: Making it more public than you already have
Back to
Wedding Checklist